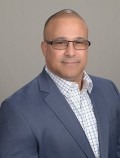 Rob Arroyo is a resident of Olympia, WA.  He has a passion for working with buyers and provide expert knowledge of initial residential transition and housing procedure for military families new to the Thurston & Pierce County area.  His positive attitude makes him an invaluable asset to Group 7 Real Estate team and to his clients.  Rob loves to work hard to get the job done and always take care of his clients. 
Before Rob joined Group 7 Real Estate team, he was a US Army Officer with 22 years of service with expertise on Human Resources Management & Logistic Operations.  Rob also has several years of construction and repairs experience, which allows him to identify great properties.  In this market, recognizing the quality of renovations and features of new construction is a vital skill when helping clients finds a home. 
Rob is a graduate from University of Oklahoma and has a Master Degree in Human Resources Management and is fluent in Spanish. 
When Rob is not with clients, he enjoys spending time with family and friends.  He also coaches Olympic Weightlifting, teaching young kids, high schools students and masters lifters in the Olympia area about functional fitness and Olympic Weightlifting.